The Hugo / Eastern Trails Train Depot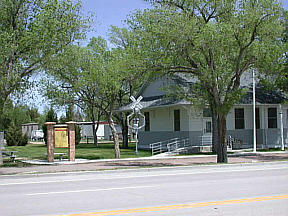 This landmark building now known as the Eastern Trails Depot, started life as an actual Union Pacific passenger depot. It was originally located along the Union Pacific tracks but is now located on the southeast side of  Main Street. The depot has been completely restored and is used for various community events like the annual Christmas Tree walk, family reunions, and even a wedding or two.
If you would like to use this facility for one your events, please check the rules and regulations, then complete the reservation form and turn it in to the Town Clerk for consideration and approval..
Hugo Eastern Trails Depot Facility Rules & Regulations
Hugo Eastern Trails Depot Facility Reservation Form ( Please call the Town Hall to reserve date before filling out the form.)
---