Important notices and Events will be under the Announcements tab.
Welcome to Hugo!
We're a small town of less than 1,000 people on the eastern plains of Colorado. If you have traveled northwest on US Highways 40/287 from as far south as Texas, there's a good chance you've come right past the Lincoln County Fairgrounds at the southeast side of town, past the Municipal Pool, the restored Union Pacific passenger depot, seen our grain elevator, hardware store and our main commercial district with banking, groceries, antiques and auto repair right across from the Railroad Park.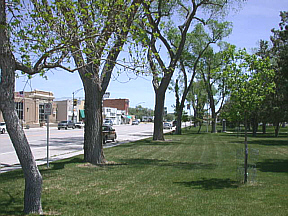 You may have stopped at Jean's Family Restaurant, refueled at Loaf and Jug and noticed our historic brick roundhouse (under renovation) or our $10-million educational complex just before you left town.
Now, if you did that without stopping like more than 2-million of your fellow travelers do every year, you might have missed our state of the art Lincoln County Courthouse Complex, our hospital with a heliport, the Hedlund House Museum and our quiet family neighborhoods.
As you can tell, we've got a lot to offer –more than a first glance might suspect. So, for starters we invite you to spend a little time on our website, then when you have a little more time, come back and see us –especially during summer and fall, when our parades, rodeos, county fair, car show, fall festival and more bring out our best!
Like to learn more about our history? Click Here